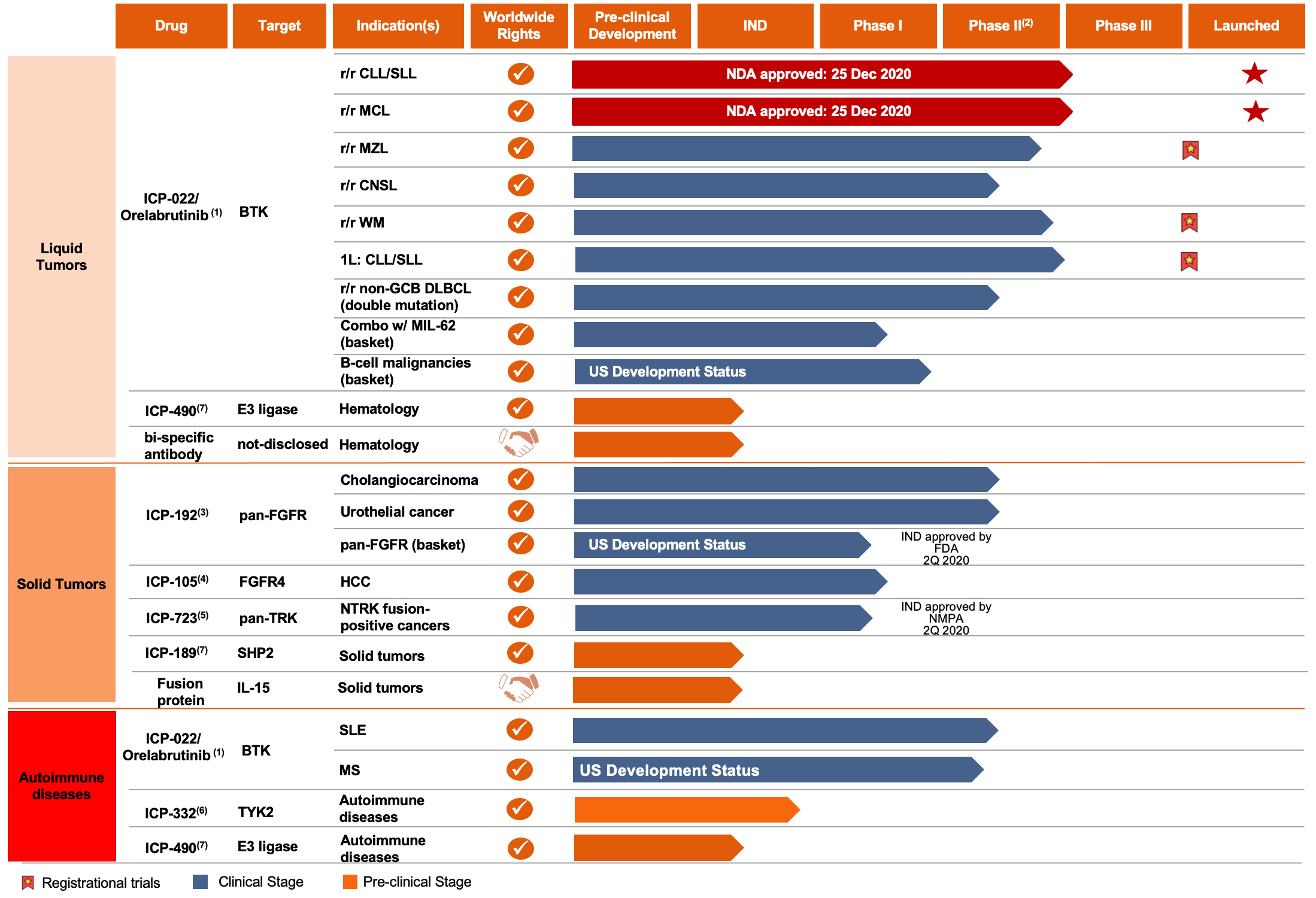 Improved Target Selectivity
Orelabrutinib - Significant inhibition of only BTK by
> 90% and NO significant inhibition of other kinases
Favorable PK/PD Profile and
Better Target Occupancy
The better bioavailability of orelabrutinib tablet enables:
Once-daily administration at low dosage
Near 100% 24-hr BTK occupancy in blood
Improved Safety and
Robust Efficacy Profile
On Dec. 25, 2020, orelabrutinib received approval from the China National Medical Products Administration (NMPA) in two indications: the treatment of patients with relapsed/refractory chronic lymphocytic leukemia (CLL) /small lymphocytic lymphoma (SLL), and the treatment of patients with relapsed/refractory mantle cell lymphoma (MCL). Both new drug applications (NDAs) were previously granted priority review by the Center for Drug Evaluation (CDE) of the NMPA.
Orelabrutinib is an orally available potent BTK inhibitor that irreversibly binds to BTK to induce downstream kinase inactivation and cell death. Orelabrutinib was designed with a single ring at the scaffold center instead of a fused bi-cycle core. We believe this unique feature conveys higher selectivity for Orelabrutinib which should result in fewer off-target side effects that potentially lead to treatment discontinuation.
The Role of BTK
BTK is a non-receptor tyrosine kinase that plays a key role in signaling in various cell surface receptors, most prominently the B-cell antigen receptor (BCR). The BCR signaling pathway is crucial for the proliferation and survival of leukemic cells in lymphomas. BTK inhibitors selectively block kinase activities and regulate signaling pathways to interfere with B-cell development and thereby control oncogenic progression of various B-cell malignancies.
BTK is a promising target for the treatment of autoimmune diseases such as RA and SLE due to its role in mediating both B-cell and Fc receptor signaling. Specifically, BTK plays key roles in both B-cells and macrophages, which are the two major cell types contributing to SLE pathogenesis.
Orelabrutinib Clinical Trials
Phase II clinical trial using orelabrutinib for the treatment of multiple sclerosis
MS is an autoimmune, inflammatory disease of the central nervous system. The immune system destroys myelin surrounding nerves disrupting the normal functioning of the brain, optic nerves, and spinal cord through inflammation and tissue loss. It can cause muscle weakness, fatigue, and visual problems, and ultimately lead to disability. It most often appears when people are between 20 to 40 years old and it is the most common cause of non-traumatic neurological disability in young adults.
According to the Multiple Sclerosis International Federation (MSIF), more than 2.8 million people around the world are affected by MS today. According to Frost & Sullivan analysis, global market of MS drugs reached US$23.0 billion in 2018, and it is expected to be up to US$48.9 billion by 2030.
BTK, a key kinase in the B cell receptor signaling pathway, plays important roles in the development and function of B cells, macrophages, and microglia, which are involved in the immunopathological characteristics of MS. BTK inhibitors have the potential to transform the treatment paradigm of autoimmune diseases including MS.
Orelabrutinib Combinations
We intend to identify and develop promising combination therapies to leverage Orelabrutinib's favorable safety profile demonstrated by clinical data to date.
We have initiated a Phase I trial of Orelabrutinib in combination with MIL62, a next-generation CD20 antibody for FL patients in China and plan to explore other promising combination therapies with agents such as BCL-2 and PI3K inhibitors for the treatment of B-cell malignancies.
Potent and selective pan-FGFR inhibitor that we are developing for the treatment of various types of solid tumors. ICP-192 is one of the most advanced clinical stage pan-FGFR inhibitors being developed in China. We developed ICP-192 with a unique structure to achieve enhanced anti-tumor efficacy while limiting in vivo drug exposure.
We will initially focus the expansion studies on cholangiocarcinoma with FGFR2 fusions and urothelial cancer with FGFR2/3 genetic alterations. We plan to collect further data to assess whether ICP-192 will be a potential treatment option for patients with FGFR mutation in combination with therapeutic agents such as immune checkpoint inhibitors.
The Role of FGFRs
FGFRs are a family of tyrosine kinase receptors, which includes FGFR1-4, that play a key role in the regulation of cell proliferation and cell survival.
Pan-FGFR inhibitors that selectively bind to and inhibit FGFRs can block FGFR-related signal pathways and thereby control tumor cell proliferation and tumor cell death.
ICP-192 Clinical Trials
Ongoing Clinical Trial
Phase I/IIa study to define MTD and/or OBD and PK/PD In patients with solid tumors
Well tolerated and no treatment-related DLT
Dose-proportional exposure increase
8mg QD exceeds therapeutic exposure
PD marker observed at 8mg QD and above
Trials Under Planning
Cholangiocarcinoma with FGFR fusions
Urothelial cancer with FGFR2/3 alterations
Initiating clinical trials in the US. Other solid tumors with FGFR alterations
ICP-105 is a highly selective FGFR4 inhibitor that can effectively bind to FGFR4, inhibit FGF19-overexpression mediated activation of FGFR4 signaling in HCC and exert its anti-neoplastic effect by blocking the activation of the downstream ERK signaling pathway. We are developing ICP-105 primarily for the treatment of advanced hepatocellular carcinoma (HCC) with FGFR4 pathway overactivation. 
The Role of FGFR4
FGFR4 is a tyrosine kinase receptor that plays a key role in the regulation of cell proliferation, metabolism and bile acid biosynthesis. Aberrant activation of FGFR4 is associated with the overexpression of its ligand FGF19 in hepatocytes. Such activation has been found to drive cancer development and solid tumor growth. FGFR4-specific inhibitors suppress the aberrant activation of FGFR4 and inhibit FGFR4-mediated signaling, leading to an inhibition of cell proliferation in FGF19-overexpressing tumors cells.
ICP-105 Clinical Trials
ICP-105 is under clinical evaluation in a Phase I dose escalation trial to identify the MTD and/or OBD in China. We plan to initiate an open-label Phase IIa study to evaluate the safety and efficacy of ICP-105 in HCC patients with FGFR4 pathway overactivation. We also plan to explore the use of ICP-105 in combination with immune checkpoint inhibitors for the treatment of advanced HCC with FGFR4 pathway overactivation.